The information below is available for you at any time. If you need more help, please visit our Help center.
Click here
for Ribbuild manual. (designer version)
Cover page
You can see this information using the 'Look inside' feature for any pattern on Ribblr.
- General information
In the cover page you will see general information about the pattern, such as: shop's name, pattern name, photos, difficulty level, a short intro, and gauge. (if applicable)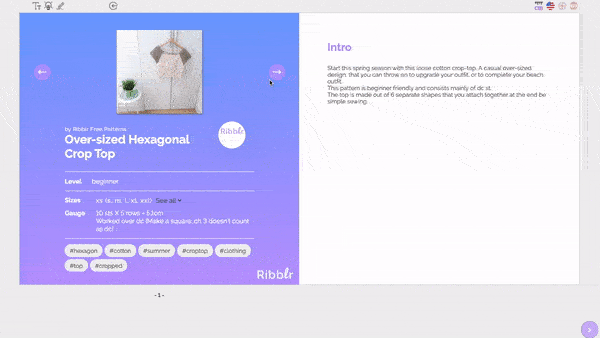 - Select your size
If different sizes are available, you can choose to view all sizes or your chosen size only throughout the whole pattern. If you choose 'See all', different colors will highlight each size.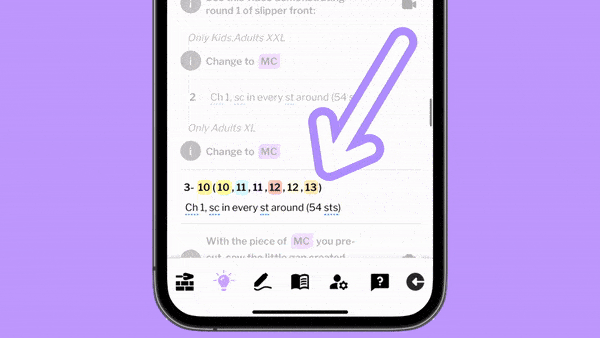 Measurements page
You can see this information using the 'Look inside' feature for any pattern on Ribblr.
- Measurements
Find out more information about the pattern's measurements. (if applicable)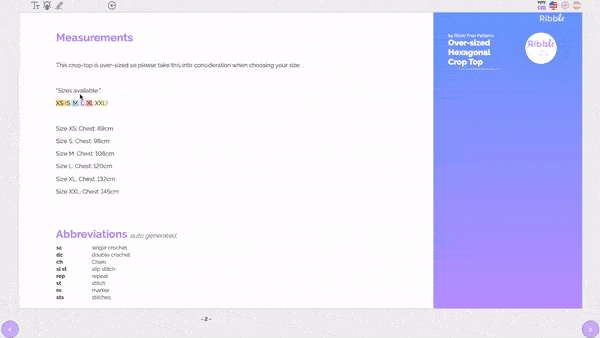 - Abbreviations
List of abbreviations used in this pattern.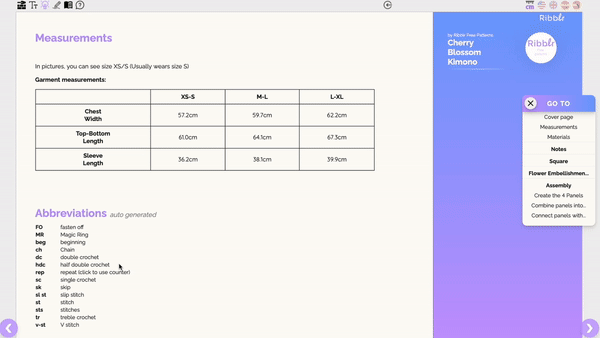 Materials page
You can see this information using the 'Look inside' feature for any pattern on Ribblr.
- Materials list
See the list of materials required for this pattern. Where applicable, you will see a box of yarn color and name. For patterns with colorwork, you may click these boxes and match the colors to the yarn you are working with. This will personalize your view and display your chosen colors for the available instructions and charts of that pattern.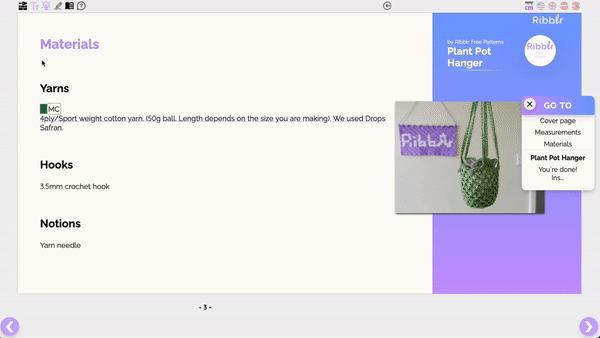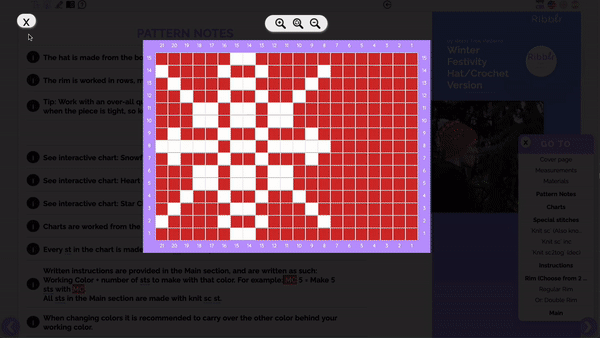 Pattern
- Track your progress
Click each line to mark your progress. You can click a header or sub-header to track or un-track a whole section. If you wish to start the pattern again, simply click the restart icon on the last page of the pattern. This will deselect all the lines in your pattern.
- Tips and instructional videos
While tips mode is on you can get help by hovering or clicking on any abbreviation.
- Counter
While tips mode is on you can open a counter by clicking on any 'repeat' or 'rep' word.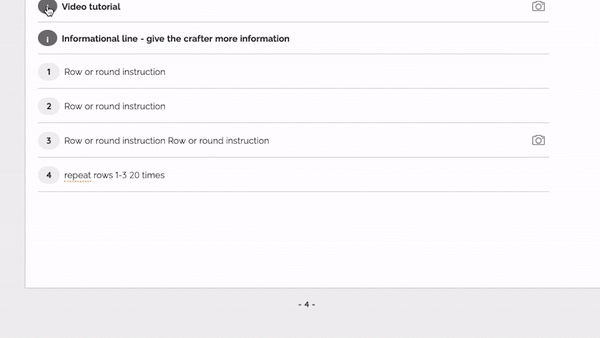 - 'Go-to' list (Table of contents)
Jump between all sections of the pattern directly from the 'Go-to' list. Hide the list by clicking the x button and reveal it again by clicking the arrows.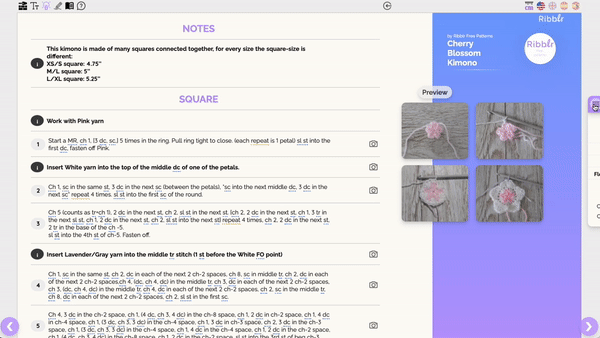 - Media icons
When media is attached to a line in the pattern you will see different media icons to the right of this line. Media icons include photos, videos, files, audio, Youtube and charts. Click the icon to view the attached media. If the media is downloadable you should see a download button.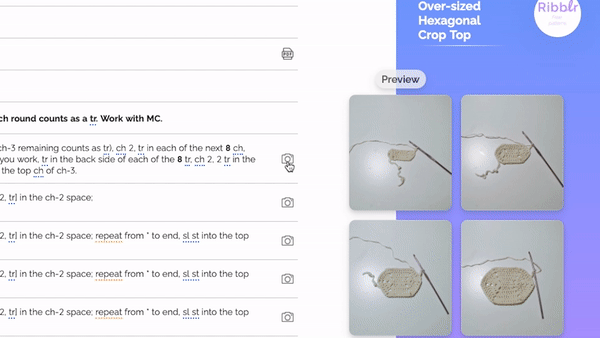 - Interactive chart
Built-in interactive charts are available on many Ribblr ePatterns and can be accessed by clicking the chart icon to the right of a line. You can mark your progress by clicking the chart's cells and you can always continue right where you left off on all of your devices. You can create your own customized version of colorwork charts and select different colors. Simply go to the materials page and click the yarn color box to select colors. With left-hand mode enabled, you will be able to work charts from left to right. Finally, if you are not sure what a specific symbol in your chart means just click it in the list to the left of the chart and watch a quick tutorial video.